Today the life of students of the Institute of Philology is very interesting and rich in variety of scientific-methodological and cultural-enlightened events that give an opportunity to young people to realize their potential.
The teaching staff collective of the Institute actively engages students to scientific-research work.Systematic holding of various artistic events, creative contests, executing them in a balanced way is an effective stimulus for identification and development of talents. Each year the Council of Students self-governance of the Institute welcomes the freshmen by a festive concert and organizes the initiation ceremony.
Students' life of students-philologists is lively and colorful: scientific conferences, presentations of international programs, internships and grant opportunities, translation contests, a play in a foreign language, the script of which was written at Spanish language lessons - it's only a small part of your unforgettable student years.Language internships at the University of Dante Alighieri, Reggio di Calabria, Italy.
In the framework of cooperation with the University of Dante Alighieri in Reggio di Calabria, Italy, 7 students of Italian Department of the Institute of Philology had 1-month language training and received certificates of B2 level. Two professors of the Department of Romance Philology and comparative-typological linguistics Yana Yarovaya, Valeriya Babenko finished the courses of Italian language of C1 and C2 levels with excellence and returned home with scholarships for a free training course next summer.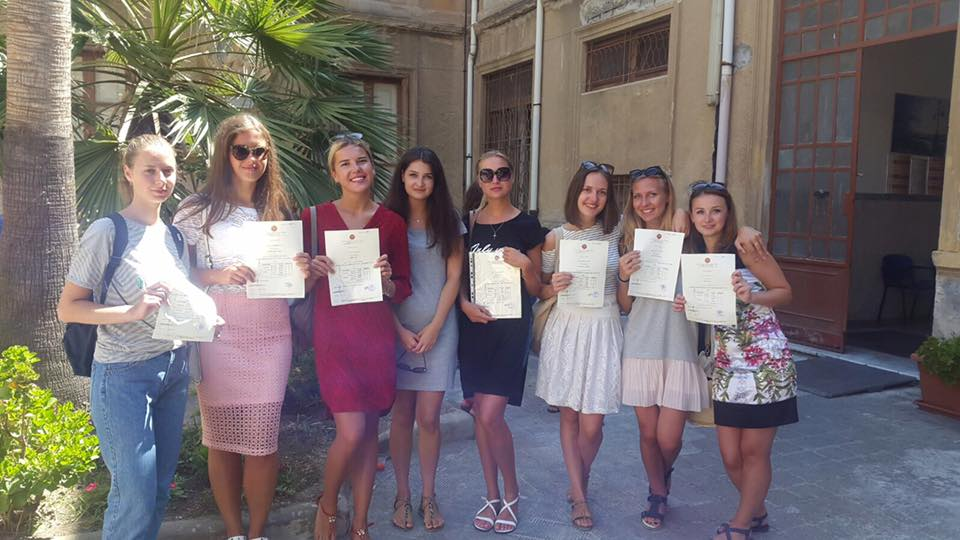 (get to know more, following the link: http://if.kubg.edu.ua/struktura/2011-06-23-12-44-46/kafedra-romano-hermanskykh-i-skhidnykh-mov/podii.html)
The studentof 3rd year of studies (ItalianPhilology) Mariya Holyk, and Moskalenko Anastasiya, the studentof 5thyear of studies ("Language and Literature (Italian)" had an internship in the framework of international mobility program Erasmus+ in Italy at the University of Foggia.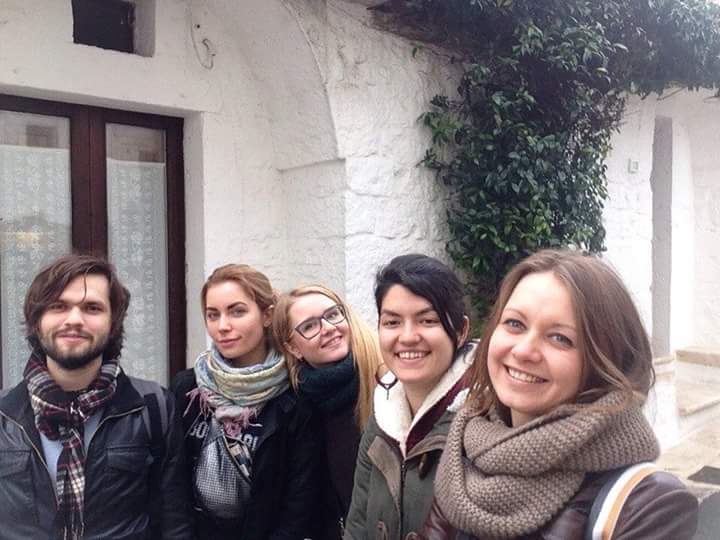 http://if.kubg.edu.ua/images/stories/Departaments/gi/krgsm.gi/Foggia/Foggia1.jpg
Final phase of a contest of students' literary translation of lyric legacy of Juan Manuel Marcos "Paraguayan reading"
A part of cooperation with the University del Norte was a contest for the best translation of "Poemas y canciones" by Juan Manuel Marcos, aimed to publish bilingual (trilingual) edition of his lyrics. Our students translated to Ukrainian the collection "Poemas y canciones", which consists of 54 poems by Juan Manuel Marcos, some of which have multiple authorial translation. They presented them at the author's reading for the students of nDepartment of Spanish language and for the students of specialization "international information and translation", as well as to the honored jury of the contest.
(get to know more, following the link: http://if.kubg.edu.ua/struktura/2011-06-23-12-44-46/kafedra-romano-hermanskykh-i-skhidnykh-mov/podii.html)