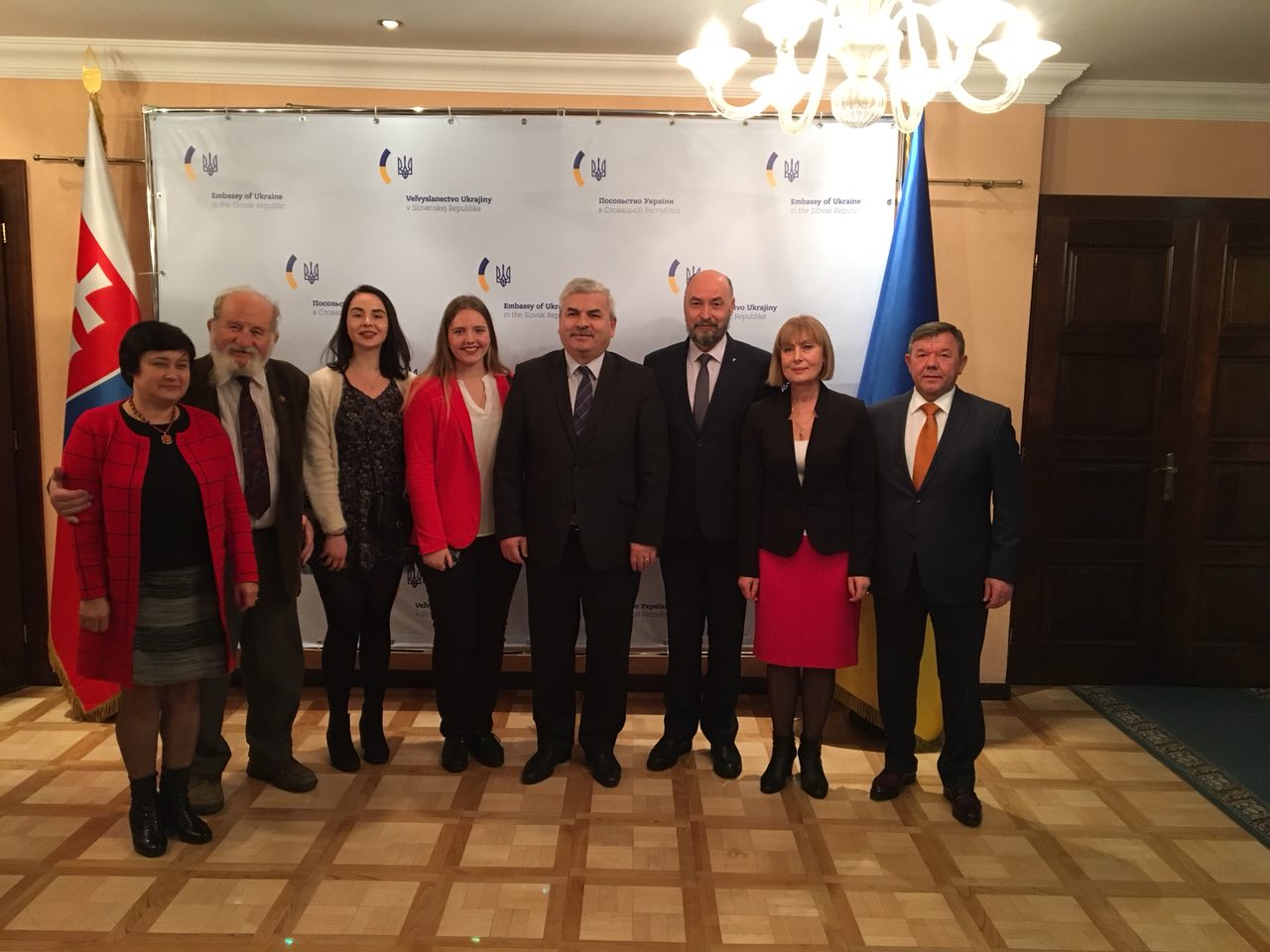 November 13-18, 2017.
State Government of Carinthia invited Borys Grinchenko Kyiv University delegation to visit Bratislava (Slovakia), Vienna and Klagenfurt (Austria) on November 13-18, 2017.
The delegation consisted of prof. Igor Zhaloby, the International Relations and International Law Department Head and Oleksandra Gondyul, the Head of the Scientific Society of students, postgraduates, doctoral students and young scientists, as well a 5th year student at Law and International Relations Faculty.
A scientific round table entitled "Ukraine-Slovakia: Development of Bilateral Relations and its Key People" was held at the Embassy of Ukraine in the Slovak Republic in Bratislava on November 14, 2017 - on the 100th anniversary of Ukrainian diplomacy.
Ukrainian and Slovak historians, scientists, political scientists, representatives of Ministry of Foreign Affairs of the Slovak Republic, the media, students, members of the Ukrainian community attended the event.
Yuriy Mushko, the Ambassador of Ukraine to the Slovak Republic, addressed to the participants, by drawing attention to the complicated history of the foreign policy service of Ukraine, the development of Ministry of Foreign Affairs of Ukraine. The ambassador focused on the development of Ukrainian-Slovak bilateral relations.
Our delegation participated in the Ukrainian-Austrian scientific conference "Ukraine and Austria - A Hundred Years Ago" on November 15, 2017 at the University of Vienna. The Embassy of Ukraine in Austria, the Austrian-Ukrainian Association, the University of Vienna and the Scientific Society organized the event for the History of Diplomacy and International Relations.
Professors Irina Matiash (Kiev), Igor Datsky (Ternopil), Oleg Pavlyshyn (Lviv), Professors Andreas Kappeler, Christoph Augustinovich and Kerstin Yobst (Vienna) spoke at the conference. Their speeches outlined the period of the establishment of Ukrainian statehood in 1917-1920 in the context of the international relations of the UNR and WUNR, as well as the first steps towards the Ukrainian diplomatic service establishment.
Our delegation also participated in the International Conference "Dialogue and Culture" on November 16-17, 2017 at a panel discussion on "Multiculturalism: Confrontation - Emotions - Communications" and in the 28th European Congress of Ethnic Minorities. Traditionally, the capital of the Carinthian state of Klagenfurt stands as the venue for a conference and congress. This time, international experts discussed the topic "Ethnic groups in the era of the digital world".