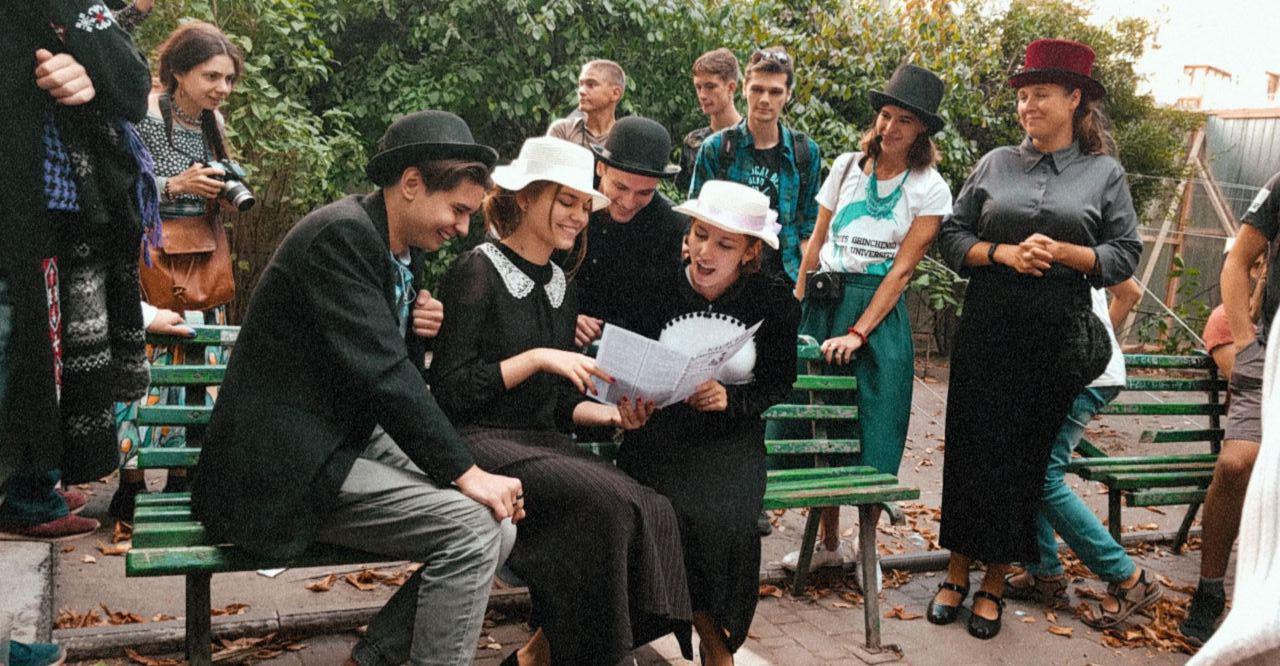 14-15 September, 2019
On September 14-15, 2019, within the framework of the European Heritage Days, theatrical excursions "Kyiv of Borys Grinchenko's Times" and "Kyiv in the Works by Ivan Nechui-Levytskyi" were organized and conducted by the Scientific Society of students, postgraduate students, doctoral students and young researchers of Borys Grinchenko Kyiv University.
The excursion route "Kyiv of Boris Grinchenko's Times" was passing through the historical center of Kyiv and included places closely related to the life and work of Borys Grinchenko. Borys Grinchenko lived for a long time in Kyiv, worked for the newspaper "Public Opinion", in the editorial board of the newspaper "New Community", and was the founder and chairman of the Kyiv society "Education". Therefore the excursionists walked along Mykhailivska street, where the newspaper editorial office was once located, the Sophia Square - the center of Kyiv at that time, Bulvarno-Kudriavska Street, where the University Administration is located for now. The excursion ended in Hoholivska Street, at the house where Borys Grinchenko lived in those days.
The excursion-performance "Kyiv in the Works of Ivan Nechui-Levytskyi " was intended to convey the atmosphere of Kyiv at the turn of the 19th - 20th centuries. Ivan Nechui-Levytskyi loved Kyiv and often described it in his works. His stories, plays, novels present a very detailed picture of the city life of that period. The excursion route, which ran along Podil, Vozdvyzhenka and Volodymyr Hill made it possible to see what has changed in Kyiv and what has remained unchanged since then. During the walk the excursionists evaluated the miniatures from the works "Clouds", "In Kozhumiaky, "Night on Volodymyr Hill". The bright end of the excursion was the restoration of "vechornytsi". The participants of the excursion could join in dancing, singing traditional Ukrainian songs and feel how young people entertained a hundred years ago. The final scene took place in a very symbolic place, with a magnificent view of Kyiv, which Nechui-Levytskyi himself probably once enjoyed.